Dominique Babineaux
She may be from Texas originally, but she's a New Yorker through and through.
Meet model and creator Dominique Babineaux,
who's delicate tattoos and overall style we can't get enough of.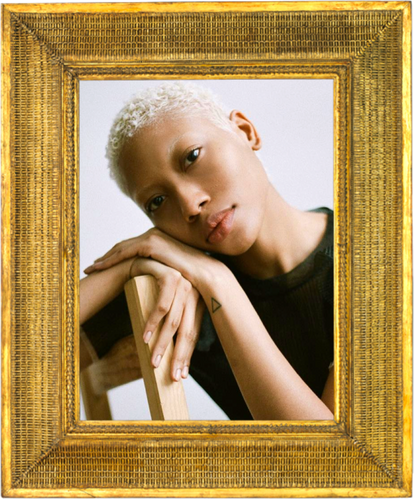 My name is Dominique Babineaux and I'm a model and creator from Texas, but I've called the East Coast my home for almost a decade now. I'm the most private open person you'll ever meet. Meditation and many forms of self expression keep me sane...but so does fashion, food, and music. I think substance can be and mean different things for everyone. For me being a person of substance requires empathy, love, and awareness.
It's so hard to pick a favorite because each tattoo has come at a pivotal or meaningful time in my life. They serve as a timestamp or memory capsule for me. If I HAD to pick, I'd say it's my 'Muse' script tattoo on my left forearm. My boyfriend and I were newly dating at the time. He's a photographer and over the course of us getting to know each other I would take the train from New Jersey to Queens every weekend to sit in his room and watch him retouch or work. We'd talk about everything and occasionally shoot super creative projects together. Long story short, I became his muse and I'd always wanted that word tattooed on me. I finally had a reason and he has beautiful handwriting (seriously better than anyone I've ever seen) so I asked him to write out the word for me. Randomly on the night of my 21st birthday, he (someone who would NEVER get a tattoo), my mom (she was in her 50s at the time), and I all went to get our first tattoos. My mom and I also got matching tattoos that night. I'll never forget that moment. 
How do you think this story mirrors some of your personal values?
I really value making decisions out of love and putting an emphasis on making sure we don't forget the hard times in life, My favorite tattoos have come from moments of bonding and wanting to imprint the love and appreciation I have for someone in my life or a lesson I need to remember that kicked my ass.
What would be your recommendation(s) for someone thinking of getting a tattoo? 
I am a huge supporter of tattoos, same as my mom. But I still waited until I was 21 to get one. I look back on the huge crazy things I wanted to get at 16 that my mom considered and I laugh and shake my head. I don't want to be the Debbie downer that says wait til you're older, but looking back I'm glad I waited until I grew more into the woman I am today and lived a little before commiting to something permanent. At the end of the day, just be sure of what you want, and do extensive research on your artist and design.