Wednesday Holmes
Wedneday holmes is an artist, writer and poet based in
London. As a non-binary lesbian, Wednesday's colorful work touches on identity, mental health, sexuality, gender, and beyond, 
in a way that feels accessible and relatable.  Get to know them below.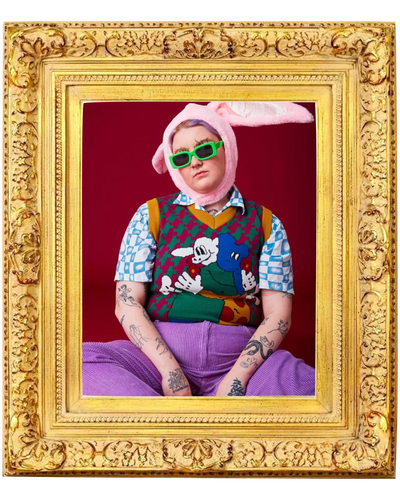 My name is Wednesday Holmes. I'm an illustrator, painter, writer and LGBTIQ+ community organiser. 

What's your favorite tattoo? Tell us the story behind it.
My favourite tattoo is on my hand. It's a small doodle celebrating the stonewall riots.  Keith Haring gave this little drawing to the LGBT center in new york. I have done a lot of work with the center in support of their TGNCI substance use support group. So when I was in new york, I went to visit my friend Bob Civil, who heads creative projects there. When I saw the drawing I took a polaroid of it. At the end of my trip to new york, I was reflecting on the amazing time I had had there, with people from my community. It was pride week and I had walked the NY queer liberation march with Voices4, I had my first ever art show there alongside some of my favourite queer artists. It was just such a memorable week that I decided to get a tattoo. I flicked through my polaroids and saw this drawing. It was perfect! So i found an artist in manhattan and booked their next slot!
I think when it comes to tattoos - and life, I grab the happy moments and celebrate them without a second thought. I'm learning everyday to celebrate who I am, and to honour my history. This story marks a huge change in my thinking. It was here that I saw how many people were like me, and that I would never be truly alone. I saw that many were fighting for our community still, and it was here that I found the strength to fight back, too.
Wait until you're 18 if you can.If your white, too, make sure your tattoos aren't appropriated from cultures that aren't yours. Don't get indigenous tattoos, don't get writing in language you don't understand.Dont give a fuck about how they will "look when youre older" if you like the art now, get it now, enjoy it now.Tattoos are for YOU, they're here to make YOU feel great. Get the art for YOU and dont give a fuck about anyone elses opinions.